Another - One Layer Simplicity
talented ladies on the Design Team.
Check them out, you will be Inspired!
This stamp this time is Stampin' Up!
Hand Lettered Hello Sentiment
I LOVE the shine that the clear embossing has
I hope that you are INSPIRED to join in too!!!
This Challenge runs for 23 more days!
Yo have LOTS of time to create a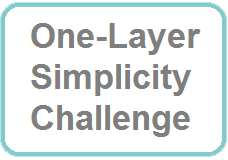 The Design Team:
Thanks for coming by my blog!
----------------
LOVE!
-----------------
Where I buy Stampin' Up!