I am sharing
the amazing
illustrated
I am also posting on the Artsystamper blog!
This set features several variations of colored and non colored koi,
water lilies,
bubbles and sentiments.
I have another bookmark for my mom.
I asked her if she had some broken jewelry that she loved that I could add use to make her a gift. She gave me a box of mis-matched and broken jewelry parts of earrings, bracelets, bits and bobs she could not part with.
There was a lovely rosary and some iridescent plastic earring parts that I knew she would love the way I would add then to a bookmark.
I added Tonic NUVO clear drops for water droplets. I love the way this turned out!
She was so stunned and happy she can enjoy some of her treasures that were lying in a box almost forgotten.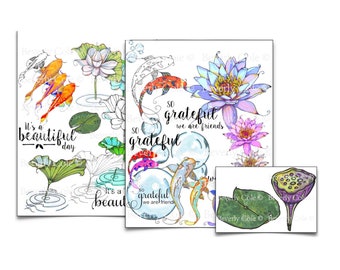 Spectrum Noir
Tri-Blends Alcohol Markers
Colors: Coral, Pale Pink, Hydrangea, Purple, Lavender,
Green Turquiose, Ice Blue, Red, Orange, Yellow,
=======================================
Now my friends...it is YOUR turn to get crafty!
Thanks for coming by my blog!
Live, Laugh
=======================================