There are some Blogs out there that I am compelled to participate for the greater good.
The AMuse Studio Challenge fits this bill.
A small group of ladies dedicated to making cards with AMuse products.
Amuse is local to the PNW, it was founded here.
However you can buy it online just like Stampin' Up!
The ladies of this blog tirelessly charge on. Spending their time as
well as sponsoring the wins themselves.
The current challenge is

KRAFT!
...Oh it ends very soon...
SO check out their blog and enter next time if you like!
Supplies:
AMuse Fox
Studio Calico Sticker Banner
Mini craft pom pom
Hand drawn Santa hat
Memento Tuxedo Black
Glitter, Copics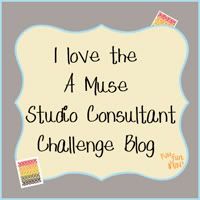 Edit at ADD:
This sadly was the last Challenge for the AMuse Studio Consultant Challenge.
It is greatly missed by me!