Hope you like my very bright and floral coffee card for today!
Today I am enjoying Tomothy's World Coffee German Chocolate Cake for the Keurig. ANYTHING Caramel, Coffee, & Coconut, I am a fiend for!
This lovely and fun coffee cup image is from Polka Dot Orchard in the set called "The Way of Beauty" I added this to the very bright and eclectic Pink Paislee paper pad called Pick Me up!
Remember to check out
Polka Dot Orchard
EVERY DAY of the hop for more chances at Prizes!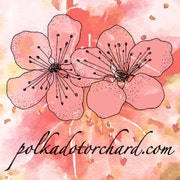 Back to the Coffee Loving Card Makers Hop
=======================================
Now my friends...it is YOUR turn to get crafty!
Thanks for coming by my blog!
LOVE!