Ahhhhrrhfghghghg This is me yawning. Today was a hard day to wake up to.. Just tired. My alarm woke me in the middle of a dream. A really involved one where an (imaginary) friend got their car stuck in part mud, part water and was needing to have help out. Intense...so I am still groggy.
Today I am sharing more Polka Dot Orchard goodness! T
he set called "The Way of Beauty."
I showed another card yesterday with this set, I ADORE it!
Remember to check out
Polka Dot Orchard
EVERY DAY of the hop for more chances at Prizes!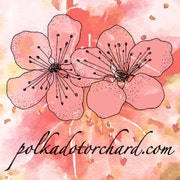 Back to the Coffee Loving Card Makers Hop
=======================================
Now my friends...it is YOUR turn to get crafty!
Thanks for coming by my blog!
Live, Laugh
LOVE!